Zags Baseball HS Pitchers&Catchers Prospect Camp

January 26, 2019 - January 27, 2019
Don't miss this opportunity to learn from some of the best instructors and coaches at the collegiate level. Our camp staff will include coaches from an assortment of levels from Division 1, Division 2, Division 3, NAIA, and Junior College. As well as current Gonzaga University Baseball players.
Not only will you learn what it takes to become a pitcher or catcher at the next level, but you will also learn the importance of strength and conditioning, nutrition, injury prevention, college recruiting, and NCAA rules and eligibility. You will leave this camp with all of the information you need to help you find the right opportunity once your high school career is complete.
The camp will offer extensive drill work and information on pitching and catching mechanics, throwing programs, and a chance to interact with numerous college coaches as well as current Division 1 athletes.
Dates and Times:
Saturday, January 26th, 2019- 1:30pm-4:30pm
Sunday, January, 27th, 2019- 8:00am-11:00am
Camp is Limited to the FIRST 35 registered pitchers
Camp is limited to the FIRST 25 registered catchers
Players Receive:
6 hours of elite Division 1 position instruction
Video Analysis of Pitching and Catching Mechanics
Gonzaga Camp Dri-Fit Shirt
Camp Check-in:
Please check in at Warehouse Performance (North Baseball Entrance) on Saturday, January 26th at 1:15pm.
Items to bring:
Baseball Turf shoes or Tennis Shoes
Baseball appropriate attire to wear during camp
Baseball Glove
Catchers Gear (if catching)
Please mark name or initials on all items as Zags Baseball Camps will not be responsible for any lost/stolen items.
Camp Waiver:
This will be completed in full with online registration and we will have on file
Directions:
Camp will be conducted in full at Warehouse Performance directly across the street from the campus of Gonzaga University. Address is: 800 N. Hamilton, Spokane, WA 99202
Accommodations:
This is not an "overnight" camp. Players traveling from out of town will be responsible for securing their own accommodations and travel to and from camp.
Merchandise:
Authentic Gonzaga Baseball merchandise will be for sale at the beginning and end of each day of camp. We gladly accept cash or credit card.
Refund Policy:
We do not offer refunds on cancelled campers, but rather a future camp credit if you decide to cancel. We do offer our "Cancellation Protection" as an alternative. This allows our registered participants some peace of mind in case of change of plans. This allows us to keep our prices low and provide the best camp experience possible. Due at the time of registration , Cancellation Protection entitles you to a full refund of camp fees should you cancel your registration more than 7 days prior to the start of camp. If you cancel within that 7 day period before camp begins we will refund full registration minus the processing fee and cancellation protection fee. If you choose to take camp credit, that credit is valid for 3 years from camp date.
Camp Contact:
Questions regarding Zags Baseball camps? Please email Danny Evans at evans@gonzaga.edu
Gonzaga Baseball Camps are open to any and all entrants (limited only by number, age, grade level and/or gender).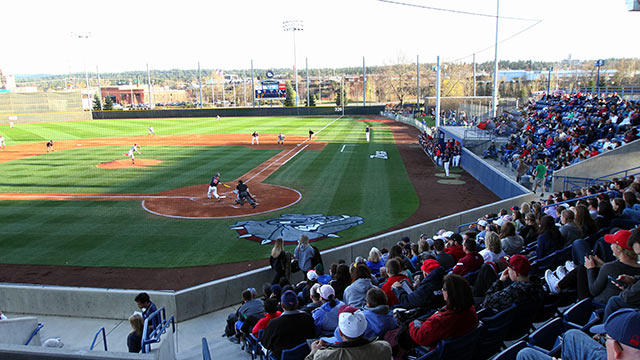 Warehouse Performance
Zags Baseball HS Pitchers&Catchers Prospect Camp
Gender: Male | Ages: 14 - 18
January 26, 2019 - January 27, 2019 | Spokane, Washington
Sat, January 26, 2019 - Sun, January 27, 2019
800 N. Hamilton
Spokane
,
Washington
99202